Science
The importance of government funding - an open letter
Barack Obama
,
The Nature Conservancy
,
National Geographic
,
Democrats
,
Democratic Senatorial Campaign Committee (DSCC)
,
Nancy Pelosi
,
Joe Biden
,
John Baynor
,
Republican National Committee
- It is important for government funds to be spent on scientific research, instead of relying on private corporate funding, if you want unbiased data. When funding for research into a field, be it energy or agriculture, comes from the corporations in that industry the results will always be suspect. Will research that proves the opposite of what the corporation wants to be true be published?
As scientists and educators, we need to do a much better job explaining why science funding is important to the general public. We need to teach them why research matters, even when it doesn't prove what you wanted it to, and why gathering knowledge is important regardless of pre-planned applied projects. Do you think people knew the Gastric Brooding frog could hold the key to curing Peptic Ulcers when they started studying them? Or that Fire Belly toads produce a chemical that reduces high blood pressure? That African Clawed frogs could lead to the cure for diabetic foot ulcers? That one of the Poison Dart Frogs creates a painkiller that is 200x more powerful than morphine? That the Waxy Monkey Frog makes a chemical that treats antibiotic resistant Staphylococcus? That Whites Tree frog makes a chemical that BLOCKS HIV TRANSMISSION? Of course scientists didn't know any of that before they started studying these frogs. The point of science is to ask questions, to study, to learn!
The world around us is amazing, and we understand very little of it. How can we ever find the cures that surround us without the funding to look? These 6 little frogs could cure or prevent diseases and illnesses that effect millions of people, but without science no one would know. And without a better understanding of, push for, and enforcement of conservation efforts we will continue to destroy the world around us with no concept of what we are losing. The Gastric brooding frog is extinct, as is a tree that could have cured HIV, and more species face extinction every day. When you ask "what will this do for me, how will this benefit me" before funding any research, and condemn research you see as unimportant you miss the point - we will never know how the research could help us until we do it. Maybe you don't think studying snails or the reproduction of ducks is important, but I'm willing to bet plenty of people didn't think studying frogs was important either.
Why I Study Duck Genitalia
In the past few days, the Internet has been filled with commentary on whether the National Science Foundation should have paid for my study on duck genitalia, and 88.7 percent of respondents to a Fox news online poll agreed that studying duck genitalia is wasteful government spending. The commentary supporting and decrying the study continues to grow. As the lead investigator in this research, I would like to weigh in on the controversy and offer some insights into the process of research funding by the NSF.
My research on bird genitalia was originally funded in 2005, during the Bush administration. Thus federal support for this research cannot be connected exclusively to sequestration or the Obama presidency, as many of the conservative websites have claimed.
Since Sen. William Proxmire's Golden Fleece awards in the 1970s and 1980s, basic science projects are periodically singled out by people with political agendas to highlight how government "wastes" taxpayer money on seemingly foolish research. These arguments misrepresent the distinction between and the roles of basic and applied science. Basic science is not aimed at solving an immediate practical problem. Basic science is an integral part of scientific progress, but individual projects may sound meaningless when taken out of context. Basic science often ends up solving problems anyway, but it is just not designed for this purpose. Applied science builds upon basic science, so they are inextricably linked. As an example, Geckskin™ is a new adhesive product with myriad applications developed by my colleagues at the University of Massachusetts. Their work is based on several decades of basic research on gecko locomotion.
Whether the government should fund basic research in times of economic crisis is a valid question that deserves well-informed discourse comparing all governmental expenses. As a scientist, my view is that supporting basic and applied research is essential to keep the United States ahead in the global economy. The government cannot affordnot to make that investment. In fact, I argue that research spending should increase dramatically for the United States to continue to lead the world in scientific discovery. Investment in the NSF is just over $20 per year per person, while it takes upward of $2,000 per year per person to fund the military. Basic research has to be funded by the government rather than private investors because there are no immediate profits to be derived from it.
Because the NSF budget is so small, and because we have so many well-qualified scientists in need of funds, competition to obtain grants is fierce, and funding rates at the time this research was funded had fallen well below 10 percent. Congress decides the total amount of money that the NSF gets from the budget, but it does not decide which individual projects are funded—and neither does the president or his administration. Funding decisions are made by panels of scientists who are experts in the field and based on peer review by outsiders, often the competitors of the scientists who submitted the proposal. The review panel ranks proposals on their intellectual merits and impacts to society before making a recommendation. This recommendation is then acted upon by program officers and other administrators, who are also scientists, at the NSF.
This brings us back to the ducks. Male ducks force copulations on females, and males and females are engaged in a genital arms race with surprising consequences. Male ducks have elaborate corkscrew-shaped penises, the length of which correlates with the degree of forced copulation males impose on female ducks. Females are often unable to escape male coercion, but they have evolved vaginal morphology that makes it difficult for males to inseminate females close to the sites of fertilization and sperm storage. Males have counterclockwise spiraling penises, while females have clockwise spiraling vaginas and blind pockets that prevent full eversion of the male penis.
Our latest study examined how the presence of other males influences genital morphology. My colleagues and I found that it does so to an amazing degree, demonstrating that male competition is a driving force behind these male traits that can be harmful to females. The fact that this grant was funded, after the careful scrutiny of many scientists and NSF administrators, reflects the fact that this research is grounded in solid theory and that the project was viewed as having the potential to move science forward (and it has), as well as fascinate and engage the public. The research has been reported on positively by hundreds ofnews sites in recent years, even Fox news. Most of the grant money was spent on salaries, putting money back into the economy.
The commentary and headlines in some of the recent articles reflect outrage that the study was about duck genitals, as if there is something inherently wrong or perverse with this line of research. Imagine if medical research drew the line at the belt! Genitalia, dear readers, are where the rubber meets the road, evolutionarily. To fully understand why some individuals are more successful than others during reproduction, there may be no better place to look. The importance of evolutionary research on other species' genitalia to the medical field has been recently highlighted in the Journal of Sexual Medicine. Generating new knowledge of what factors affect genital morphology in ducks, one of the few vertebrate species other than humans that form pair bonds and exhibit violent sexual coercion, may have significant applied uses in the future, but we must conduct the basic research first. In the meantime, while we engage in productive and respectful discussion of how we envision the future of our
nation, why not marvel at how evolution has resulted in such counterintuitive morphology and bizarre animal behavior.
http://www.slate.com/articles/health_and_science/science/2013/04/duck_penis_controversy_nsf_is_right_to_fund_basic_research_that_conservatives.html?fb_ref=sm_fb_share_toolbar
---
Discoveries, Research, and Breakthroughs

Advancements happen everyday, many of them in the key STEM fields: Science, Technology, Engineering, and Math. These discoveries and breakthroughs can improve our quality of life, solve our problems, or allow us to live in better harmony with each other and the rest of our ecosystem.
Scientists are working on new ways to fight cancer, ways to print blood cells, and even a liquid that can be transfused into a patient to prevent brain and cell death from oxygen depletion. Other scientists and engineers may have even discovered WARP DRIVE. Joint development projects are finding ways to generate energy in new ways - like solar and wind production built in to the structure of bridges. Other bridges are being built, and then landscaped, to allow wildlife to pass safely over roads. Construction of these Wildlife Bridges and Underpasses not only greatly reduce the number of animals killed on our roads, but it creates jobs for engineers, environmental scientists, architects, engineers, construction workers and more, protects motorists from sometimes fatal collisions, and can decrease the $8 billion in damages that result from wildlife collisions in America each year.
We must always remember that we are a PART of nature; research into an ecosystem will effect us and any breakthrough that allows us to better live as a part of the environment is in our own best interest. In The 11th Hour David Orr says "So as we destroy nature, we will be destroyed in the process. There's no escaping that conclusion." He is right. As Wangari Maathai said "The environment is not really an issue for tomorrow, it is an every day issue. It is the air we breath, it the water we drink, it is the food we eat, and we can't live without these things." Through her work she continues to stress how connected to nature we all are, and how much we need it. "In my own part of the part of the world, I keep telling people, let us not cut trees irresponsibly. Let us not destroy especially the forested mountains. Because if you destroy the forests on these mountains, the rivers will stop flowing and the rains will become irregular and the crops will fail and you will die of hunger and starvation. Now the problem is, people don't make those linkages."
---
Solar Power

---
Bridge Innovation: Power Generation and Safety

Eco-Bridge Over Troubled Times: Green Design Drives Concept

Bridges are constantly exposed to the elements, sitting outdoors as they do in all types of climates and in every kind of weather. It is a wonder that before now no one has thought to harness these massive man-made structures for harnessing natural eco-friendly power. The Solar Wind bridge concept would take advantage of a particular bridge's location and altitude to capture two separate types of green energy.

The road itself would be made of not the traditional asphalt, but instead of a dense network of solar cells coated in durable plastic. The solar cells could produce as much as 11.2 kWh per year. The bridge would also contain 26 wind turbines integrated in the spaces between the bridge supports which would provide an additional 36 million kWh per year. All told, the innovative bridge could power up to 15,000 homes.

**

This bridge design

was proposed as part of the Solar Park Works – Solar Highway Competition, which asked for designers to remake a section of decommissioned elevated highway between Bagnera and Scilla.

http://webecoist.momtastic.com/2011/02/23/eco-bridge-over-troubled-times-green-design-drives-concept/#
Crossing Over: Modular Green Wildlife Bridge Concept

We're used to seeing projects that help humans get around (like highways and pedestrian crossings) but it is less common to see projects that help nature navigate around us. This

wildlife crossing

was designed by

Olin Studio

for West Vail Pass, Colorado as a way to help animals pass safely over the street. The design, called "

Wild (X)ing

," is one entry in a design competition that aims to find a way for both wildlife and humans to travel safely in the same area.

Because a highway runs through the very large White River National Forest, it poses a very real threat to the animals that make their homes there. The green bridge concept would help wildlife in the White River National Forest cross over a busy highway while staying at a safe distance from the vehicles.

The wildlife bridge concept uses a repeating rhomboid shape because of its inherent strength and functionality as a modular component. The bridge is designed to be expandable when needed; if the highway is widened in the future the bridge can easily be widened along with it.

Each rhomboid is actually what the designers call a "habitat module," which is a segment of habitat naturally found in the area.

By combining these modules on the wildlife-friendly crossing, the designers hope to create a landscape that connects the man-made structure to the surrounding wildlife and provides a comfortable environment for fauna. If the surrounding landscape should happen to change in the future, modules can be lifted out by cranes and replaced. According to the designers, this module approach is the safest and most cost-effective way to integrate a wildlife bridge into the national park.

http://webecoist.momtastic.com/2011/01/05/crossing-over-modular-green-wildlife-bridge-concept/
Underpasses Keep Wildlife on Track


Photo by Frank T. Van Manen

Responding to concerns over the impact [a] new road would have on black bears and other wildlife, the North Carolina Department of Transportation included three wildlife underpasses in the design along a 12-mile section of new road between the towns of Roper and Creswell N.C., about an hour's drive from Nags Head.

From 2000 to 2001 UT researchers collected data prior to road construction. The project resumed in the spring of 2006 after the road and the underpasses were built, giving researchers a rare "before-and-after" picture of how wildlife underpasses can mitigate impacts from highways.

For the past year researchers have been monitoring the underpasses with infrared cameras and clean-swept patches of sand, called track pads that record the animals' footprints.

They documented almost two-dozen wildlife species — everything from feral pigs to bobcat and beaver — using the three underpasses.

Whitetailed deer were far and away the most common species, with 3,183 records of them going through the underpasses.

Raccoons were another frequent user with 233 visits recorded over the year.

There were 14 records of black bears using the underpasses. As researchers expected, the bears used the two underpasses at either end of the study area, while deer preferred the underpass in the middle.

"The bears used the two underpasses that followed wooded corridors, van Manen said. "The middle underpass leads to agricultural areas, so it makes sense deer would use it more."

The study already has underscored the role the underpasses play in preventing wildlife-vehicle collisions, especially in terms of whitetailed deer.

"When you look at the number of deer crossing through the underpasses, that's literally thousands not going on the road," van Manen said. "Human safety is an important aspect to these underpasses."

http://www.knoxnews.com/news/2007/oct/11/underpasses-keep-wildlife-on-track/

---

I-90 Motorists Help WSDOT Plan Wildlife Crossings


"By having commuters document where they see wildlife, planners are better able to understand the animals as they design 24 wildlife crossings.


This wildlife overpass near Keechelus Lake would be built in the second phase of ongoing improvements to a 15-mile corridor of I-90 at Snoqualmie Pass. Construction would begin in spring 2014, at the earliest. WSDOT is looking at wildlife crossings in Banff, Canada, for design ideas. YAKIMA — There was no way the agencies monitoring wildlife along the Interstate 90 corridor could supply the manpower needed for a yearlong survey of animals along the highway, so they turned to you." - By PAT MUIR

http://www.djc.com/const/cis.html?id=12039356


---

Wildlife Bridges Around the World

---
Water Security

Fossil Fuels Sucking Up Our Water Amid Widespread Drought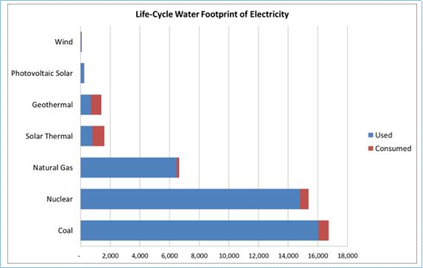 America is in a widespread drought, and our water problems are only going to get worse. The population is growing and expanding even more into drought prone areas, and deserts. We can only limit the water we use to drink and grow crops so much (though we should be doing everything possible in these areas too), but we can made serious changes to the water we consume to produce our energy. The crop choice when producing ethanol biodisle, and plant-based hydrocarbon fuels is also very important - corn requires very large amounts of water both for irrigation and fertilizer production, while mixed grass prairies require very little.
Care2 Causes
http://www.care2.com/causes/fossil-fuels-sucking-up-our-water-amid-widespread-drought.html
---
City Sues Homeowner for Not Wasting Enough Water on Lawn


A couple in Orange, California have been threatened with a lawsuit from the city–because they tore up their water-wasting lawn and replaced it with wood chips and drought-resistant plants. The

Los Angeles Time

s

reports

that Quan and Angelina Ha reduced their annual water usage from 299,221 gallons in 2007 to 58,348 gallons in 2009: an 80% savings. The city says the Has are not in compliance with an ordinance requiring 40% plant coverage. On Tuesday Quan Ha pleaded not guilty to a misdemeanor for violating county codes.

Sometimes when people have kids of their own, they start to question the kind of world they will leave to their children and children's children. Mr. Ha explains: "We've got a newborn, so we want to start worrying about her future." Not only is the non-lawn saving tens of thousands of gallons of scarce water, but it is also saving the family hundreds of dollars a year.

A California Public Policy Institute report

estimates

that outdoor water use accounts for more than half of all residential water demand. Ironically the Ha family, by removing their lawn, are actually abiding by the recommendations of the state water agency.

Water is a key political and economic issue in California, as in other parts of the Southwest. The state has endured three consecutive years of drought and reservoirs are low. There is ongoing wrangling between agricultural and residential water interests, and concern grows that water will be the new oil, a conflict-prone linchpin and threat for the long-term viability of the state. While legal compliance is important, surely common sense is more so. Let's hope this ridiculous charge is dropped in favor of responsible behavior, especially behavior that considers the needs of generations to come.

Read more:

http://www.care2.com/causes/couple-sued-for-water-wasting-lawn.html#ixzz22ES25xOD

Landscape Water Use Conservation Methods - The State of California Department of Water Resources


There are many methods that can reduce the amount of water used in a landscape and still maintain the health, appearance and function of the landscape. Here are just a few:

Regular maintenance of irrigation systems
Regular adjustment of irrigation controllers
Education of residents, customers and employees regarding the importance of efficient water use
Irrigation scheduling based on plant water needs
Preventing overspray, irrigation runoff and low head drainage
Water-efficient landscape designs using low water-use plants
Efficient irrigation systems
Minimize amenity turf areas
Soil improvements and mulch
Scheduling irrigation during early or late hours
Water budgeting using evapotranspiration data from CIMIS and crop coefficients from "WUCOLS" -Water Use Classification of Landscape Species
Dedicated landscape water meters or submeters for monitoring of water budget and leak detection
Conformance to local or the State Water Efficient Landscape Ordinance
Coordinate efforts with local water agency for incentives, rebates and planning programs

http://www.water.ca.gov/wateruseefficiency/landscape/
---
Technological Advances

Who owns your stuff in the cloud?


Putting your information on the cloud is certainly appealing, but you need to do your homework first. There are many different services available, and they all have different policies. Make sure that you, and only you, retain ownership of your intellectual property. How would you feel if you found your work published somewhere because your cloud agreement gave the company the right to do so? Also, make sure you have all of your data backed up in another location as all of the policies state that they are not responsible for any losses.

Google clearly states in its terms of service that apply to all things Google: "You retain ownership of any intellectual property rights that you hold in that content. In short, what belongs to you stays yours."

BUT: "When you upload or otherwise submit content to our Services, you give Google (and those we work with) a worldwide license to use, host, store, reproduce, modify, create derivative works (such as those resulting from translations, adaptations or other changes we make so that your content works better with our Services), communicate, publish, publicly perform, publicly display and distribute such content."

Another cloud service, Dropbox, says: "You retain full ownership to your stuff," the terms of service read. "We don't claim any ownership to any of it. These Terms do not grant us any rights to your stuff or intellectual property except for the limited rights that are needed to run the Services.""

Read more here:

http://www.latimes.com/business/la-fi-tech-savvy-cloud-services-20120426,0,3241271.story

Dead stars 'to guide spacecraft'


This article is written by Jonathan Amos, a Science correspondent for BBC News, Manchester. A pulsar is not actually a "dead" star, but they are highly magnetized neutron stars. Their average radius is only 10-15 km and they have a somewhat greater mass than the Sun, which has a radius of approximately 1 million km. These stars emit radiation from their poles that cause pulses that are so constant they make the best clocks known to man. As many of you may not know, highly accurate clocks, called chronometers, are how people used to determine their longitude while navigating around the globe. Basically, in the future pulsars will allow the USS Enterprise to navigate and keep Kirk from getting lost!"

Spacecraft could one day navigate through the cosmos using a particular type of dead star as a kind of GPS.

German scientists are developing a technique that allows for very precise positioning anywhere in space by picking up X-ray signals from

pulsars

.

These dense, burnt-out stars rotate rapidly, sweeping their emission across the cosmos at rates that are so stable they rival atomic clock performance."

Read the entire article here:

http://www.bbc.co.uk/news/science-environment-17557581
---