Pet Information: Goldfish and Koi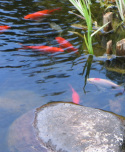 Goldfish and koi require many of the same things as tropical fish, with two main differences - they require at least
2 gallons
of water
for each inch of fish
, with a filter, but
do not
require a heater. They come in many colors and body shapes, and many do well in ponds as well as large tanks. Both goldfish and koi are domesticated carp; the goldfish was developed in China from Prussian carp (
Carassius auratus
) while koi were developed in Japan from the Common carp (
Cyprinus carpio
). The Japanese name for the fish we call koi is nishikigoi, which literally means "brocaded carp."
It is not true that goldfish and koi only grow as big as their tanks. They will not reach full size in a small tank, but this is because their growth is stunted by improper conditions. Small tanks cannot handle the high amount of waste produced by these domestic carp; high ammonia levels kill fish and high nitrate levels stunt their growth. It is imperative that they have enough room and proper filtration. Remember, these are carp - they eat a lot and they poop a lot.
Those little fish you see in stores are babies, be sure to plan for them as adults. These fish belong is large bodies of water, and koi especially should only live in
ponds
or huge fish tanks. (Follow the link for information on protecting your fish from predators.)
---
---
Basic Characteristics


They live a long time and require lots of space - a minimum of 75 gallons for your first koi, and at least 30 gallons for your first goldfish.

These are cold water fish, aim for water temperatures between 65-75 F

Can handle lower temperatures and will safely over-winter in ponds throughout most of the US, they spend most of the winter in a state of hibernation (not true for all fancy goldfish varieties, see chart below)
Be sure to maintain a hole in pond ice to allow for gas exchange. Either use a pond heater or a pot of boiling water placed on the ice, never try to hammer through the ice as the percussive blows can harm the fish. (Pond heaters do not heat the entire pond, they just maintain a small constant hole in the ice)

Goldfish or Koi food: flakes, crisps, or pellets

Supplement with sinking shrimp pellets and algae wafers
For feeding fish living in ponds, be sure to follow the water temperature instructions on the food - their metabolism slows down greatly as the water cools


Clean water is very important and I can not stress enough that these fish produce a lot of waste. It is advisable to get a filter the next size larger than the one sized for your tank, and be prepared to do more frequent water changes than with a properly stocked tropical tank.

Consider adding an undergravel filter in addition to a canister or hanging filter.
Remember, it is the nitrifying bacteria that live in the gravel and on some of your filter media that actually breaks down the ammonia fish produce. An undergravel filter pulls the water through the gravel, so the bacteria can do a better job.

Some of my little koi in the pond I designed at my parents' house.

An overhanging crabapple tree helps keep herons away, but it also fills the pond with petals every spring. My filter is in a skimmer box, which collects most of the petals.
---
Tanks housing either of these fish should always have a cover! Goldfish, and especially koi, are jumpers. It should fit snugly onto the tank with an area for the filter and any airline tubing to enter. Also use a thermometer, either one stuck to the outside of the tank or one that goes inside the tank or pond, to monitor the temperature.

Goldfish

Goldfish should live well past 10 years of age

, with 20s and 30s being common in healthy fish.

These fish get large! Comets reach about 12 inches in length, and fantails have bodies the size of softballs. While comets are longer, fantails are much rounder - an 8 inch fantail likely weighs more and has a higher

bioload

than a 12 inch comet.

Koi

Koi

grow to be very large, and belong in a

pond

or tank that is at least 100 gallons. Koi

should live to be at least 40

, with 50 not being uncommon.

There was a record of a koi named

Hanako

that died at the age of 226 years, though the accuracy of that is now in question. It is still a nice story and shows the "personality" these fish have - she eagerly comes when called and seems to enjoy having her head petted.

One reason people spend hundreds, even thousands, for high quality full grown koi is that their colors can change as they grow. A koi may get lighter, darker, or stay the same as when they were little. Sometimes, this can lead to a pleasant surprise. A few years ago I bought a beautiful small shiny silver koi. Sadly as he aged he got darker and became just a boring looking dark gray fish, though with an amusing personality. This spring, however, I had a wonderful surprise; while he is still a dark gray base color, his back is now covered in beautiful Kin Rin (metallic gold) scales.
---
Kinds and Colors

Gin Rin Ochiba Shigure


Gin Rin Tancho

Budo Goromo (Koromo)

Aka Bekko

Kin Rin Aka Bekko Butterfly

Kin Matsuba

Gin Rin Matsuba Butterfly
---
Treats for your Fish


The majority of your fish's diet, about 75%, should be commercial flake or pellet food. The remainder of their diet should be freeze dried or frozen foods.

This Dial-A-Treat includes bloodworms, mysis, and daphnia. I highly recommend getting this when buying a new fish so that you can see which treats your fish likes, they do not all have the same preferences.

This is clearly marketed for bettas, and bigger fish will go through this amount much more quickly. However, it is best to make sure your fish actually likes one of the "treats" before buying large quantities of it. Fish are quirky and what one loves another may not even touch.

---

Tank Mates


Unlike most fish found at pet stores, goldfish and koi do not need a heater and do best in cooler water. This, along with their tendency to eat small fish, makes it best to keep them just with each other. There are many shapes and colors of goldfish (comets, shubunkins, fantails etc) that can live together happily. Koi especially come in a VAST array of colors, with some being much more expensive than others.

There are some coldwater fish they can live with, especially in ponds, but they are not commonly available.

Always make sure a species you are considering is not invasive

Tank Decorations


Which gravel and tank decorations are used largely depends on personal preference. Gravel comes in many different sizes and colors. If using gravel, rocks, or driftwood from outdoors, i.e. which were found outside somewhere, they need to be sterilized before using them in your aquarium. This is accomplished by boiling the items in a large pot of water for 20 minutes to 1 hour. If driftwood found outside is too large to boil, baking it in a low temperature oven (200F) for a few hours will also sterilize it. The wood must be monitored very closely/frequently as the baking process risks drying the wood out to the point where it can catch fire.

Behavior


Goldfish and koi are domestic carp, so while they are not aggressive they WILL eat whatever easily fits in their mouth.

They are fairly easily trained, and will readily come up to be fed. Some even like to have their heads gently petted! Many of mine are very fond of the family dogs, and will swim around the dog's legs when one stands in the pond or lays by the side and even come up to kiss his nose.
Cute Koi Videos on Youtube
Below are three different versions of an elevated swimming area in a pond. The main differences to consider when choosing a shape are the aesthetics you like, and also keep in mind that a curved tank will distort both your view of the fish and its view of you. There are also videos that show various ways to feed and interact with your large fish.
Koi are easily trained to come to a specific part of the pond for feeding, and can even be trained to eat directly from your hand. It is also possible to pet your koi, and some seem to like it. Just be very careful not to scratch them. Koi, like all fish, have a slimecoat that helps protect them from injuries and illnesses. There are additives available to help keep this intact, and I recommend using them if you are petting our otherwise touching your fish.

Not only can they be hand fed, but apparently koi can be trained to eat from a baby bottle.

These installation instructions would apply to any elevated koi swimming area, regardless of shape. Make sure you use a vacuum that can safely be used with water!

These fish have an elevated fish tank in the center of their pond. The vacuum inside the tank keeps the water from escaping and allows the fish to swim up above the surface. Certainly not a natural look, but highly amusing and a great way to view the fish.

Here is a rounded version that uses the same concept. I think it is prettier, but probably also more expensive and certainly not as large.

A square column option.
---
I use Groupon and love it, but I do not endorse the individual deals shown.


I use iPage to host my website, and I am very happy with the service. The Weebly Drag and Drop Site Builder lets me create custom pages with no experience, and the support staff is helpful and patient. Hosting at iPage is affordable, even with the upgrade that allows me to create and display unlimited pages with their site builder software.

Disclosure: I do receive payment if you open an iPage account by following this link. The iPage Affiliate program allows me to earn money through referrals, which I use to develop and post the educational resources on this site free of charge.

---
Please let me know how you used these resources; if they were used in the classroom to help cover State Standards, if they were used at home, or if they were used in another setting. I welcome any other constructive feedback or ways you adapted them to meet your needs, responses do not need to be long to be helpful.

Pet Information-Goldfish and Koi

by

Caitlin Kempski

is licensed under a

Creative Commons Attribution-NonCommercial-ShareAlike 3.0 Unported License

.

This license means that you can remix, tweak, and build upon my work non-commercially, as long as you credit me and license any new creations under these identical terms.

The above information is intended to be a resource for educators and can be used freely, so long as I am credited and you are not selling it in any way. Handing it out to students of any age as is or in an edited form is acceptable and encouraged, just include the link to this webpage and identify it as your source. If you post it on your website, be it personal or school affiliated, it must also be credited to me and grant people identical terms of use. Thank you for your cooperation and please email me with any questions at bycaitlin@gmail.com. License terms can be found here http://creativecommons.org/licenses/by-nc-sa/3.0/