Chickens - Backyard Eggs

Disclaimer: These pictures are not mine, sadly I do not have any chickens of my own as I do not yet own a home. Links for the websites these pictures came from are at the bottom of the page, listed by breed. I will add my own pictures as soon as I can.


Chickens Selected for Egg Laying Ability and Temperament

As a general rule different breeds can be mixed in your flock - just make sure you have at least two of any odd type, or only one of each breed. Chickens form a pecking order within the flock and will bully a bird if it looks different than all of the others. However, if they all look different or all have a matching bird then the flock does not have one "weird" individual, this can decrease any bullying. The Plymouth Rock breed is shown first because it is a very nice breed that offers a variety of colors. If you want a multicolor egg laying flock, but only one breed, this is an excellent choice.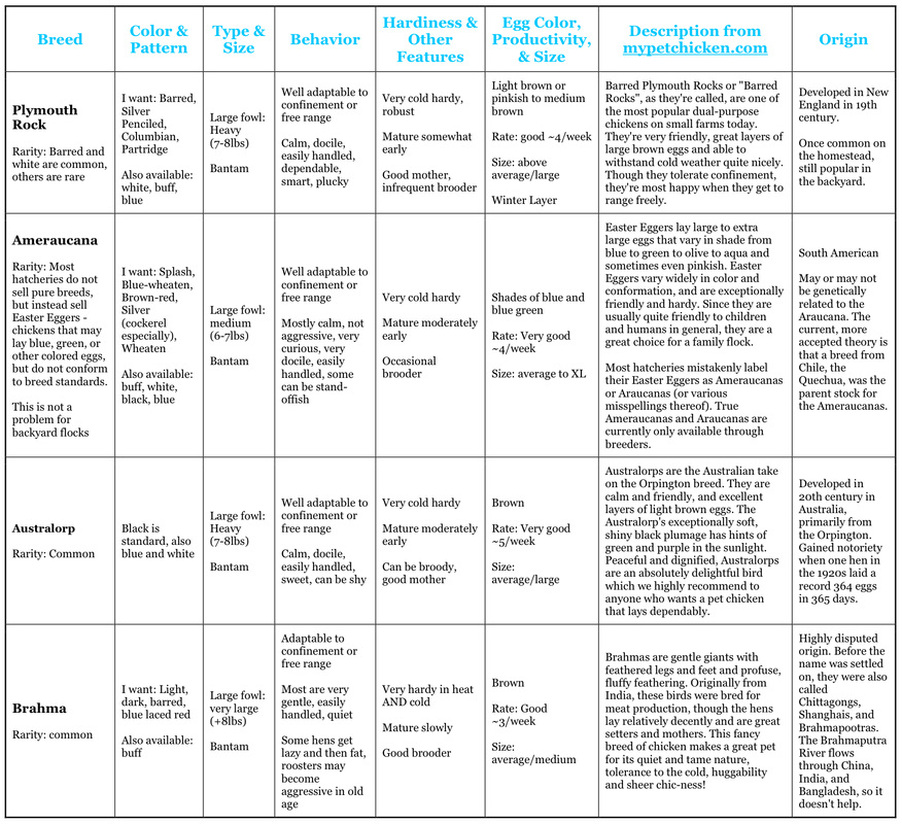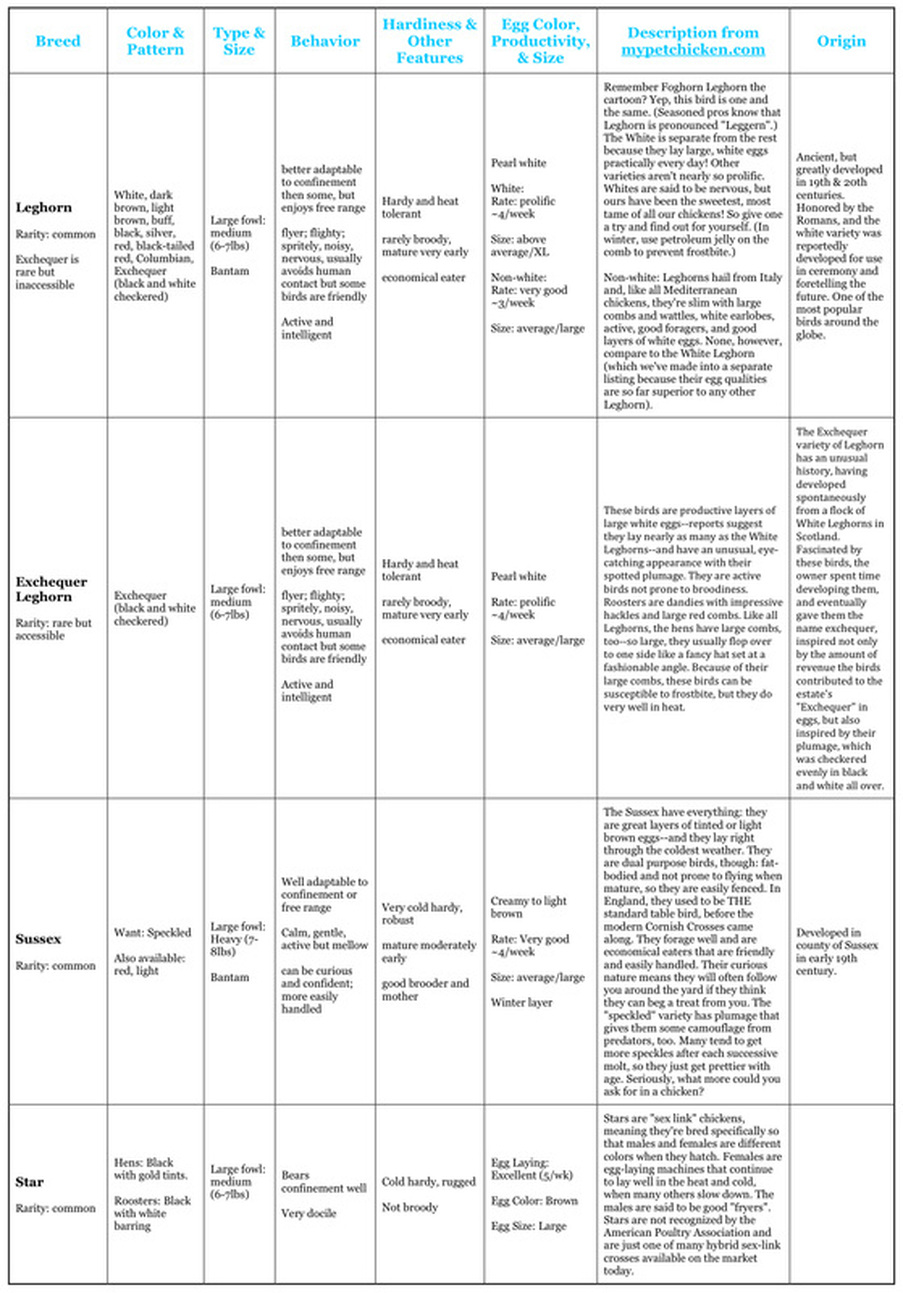 ---
Chickens Selected for Cuteness and Temperament

Bantam chickens are small birds; on average they are 1/2 to 1/4 the size of other chickens. Some are a "dwarf" version of a large breed and others are a true breed on their own. These birds are all very cute; but different breeds have different temperaments, just like regular sized chickens. If you are only interested in good egg layers do not get bantams; tiny birds equal tiny eggs. If you want social birds that will interact pleasantly with you and your family, then bantams can be a great addition to your flock. As a general rule they can be mixed with full size breeds - just make sure you have at least two of them so the flock does not have one "weird" individual, same as with mixing any chicken breeds.


---
Supplies for Your Chickens
Nesting Box

There are several types of nesting boxes: wood, plastic, metal, single, and multi-unit. The ones pictured are my favorite because plastic is easier to clean than wood, and warmer than metal, and their design means that they can be arranged in any configuration on 16" on center studs. It is also easy to add or remove individual boxes as your flock size changes, or if one becomes damaged.

"Little Giant Single Nesting Box is made of high-density, impact-resistant polyethylene that will not rust, rot, or corrode. Amply sized, hen-friendly design features an entrance perch and ventilation holes for fresh air. The box floor is lower than the entrance, which helps prevent loss of bedding. Sloped roof prevents roosting. Mounts securely on wall with slide-type screw holes."

15-7/8 in. x 16-1/2 in. x 19-3/4 in.

http://www.tractorsupply.com/en/store/little-giantreg%3B-single-nesting-box

---

---

Nesting Box Blend

This blend of herbs can be sprinkled in your nest boxes to help keep them bug free. Proper and frequent cleaning is still important.


"Using Nesting Box Blends is easy: sprinkle approximately 1/4 cup into each nesting box atop the nesting material of your choice.

Known Blend Benefits:
Anti-parasitic and antimicrobial
Excellent pest repellent and anti-mite preventative
Anti fungal and antibacterial
Anti-inflammatory, soothing and healing
Antiseptic and widely used against stress and anxiety
Mild decongestant (which can also kill air-borne germs in winter)Safe to compost "http://www.mypetchicken.com/catalog/Treats/Nesting-Box-Blend-p916.aspx#

---

Waterer

Just like every animal, chickens need access to clean water. I picked this one from the options I looked at because it will not rust and is easy to clean.

"This easy-fill, easy-clean 1 gallon Harris Farms Poultry Drinker is molded from long-life plastic with durable fountain, and features a twist-lock system and a hanger/carry handle."

Accommodates up to 60 poultry or game chicks

http://www.tractorsupply.com/product__10151_-1_10051_20993

---

---

Feeder

In addition to water, chickens need access to clean food. I picked this one from the options I looked at because it will not rust and is easy to clean.

"Harris Farms Hanging Feeder for 5-15 Birds is made from long-life plastic, this open-top 7lb. capacity feeder is designed for fast filling, easy cleaning and minimal waste of feed thanks to the no-scratch-out twist lock base."http://www.tractorsupply.com/en/store/harris-farms-hanging-feeder-for-5-15-birds-7-lb

---

---
---
I use iPage to host my website, and I am very happy with the service. The Weebly Drag and Drop Site Builder lets me create custom pages with no experience, and the support staff is helpful and patient. Hosting at iPage is affordable, even with the upgrade that allows me to create and display unlimited pages with their site builder software.

Disclosure: I do receive payment if you open an iPage account by following this link. The iPage Affiliate program allows me to earn money through referrals, which I use to develop and post the educational resources on this site free of charge.


Pet Information - Chickens: Backyard Eggs
by
Caitlin Kempski
is licensed under a
Creative Commons Attribution-NonCommercial-ShareAlike 3.0 Unported License
.

Please include your name and occupation
- i.e. Danielle, 2nd grade teacher or
Frederick, high school biology teacher or
Elissa, secretary and mother of 3

Please let me know how you used these resources; if they were used in the classroom to help cover State Standards, if they were used at home, or if they were used in another setting.

Thank you for taking the time to respond; responses do not need to be long to be helpful.
Your email address is only necessary if you would like a response.

Sources: